It's that time of year again; the nights draw in, sunsets split the sky into spectacular colours and rich leaves blanket the grass. With all this magic going on outside, it only makes sense to bring some of it indoors – here are some tips to transform your home this autumn:
Make everything cosy
When you think of cold weather, thick blankets, glowing fireplaces, hot chocolates and comfy slippers come to mind. One of the best ways to optimise relaxation in your home is to declutter the space so that your sofas and beds become the centrepieces of the rooms. This creates a calm, comfortable atmosphere which is perfect for movie nights and spending weekends at home.
Set the atmosphere with a scent
From spooky dark nights to golden morning sunlight, autumn is all about the atmosphere. Capture the outdoor settings by filling your home with autumnal and enticing smells. Use sweet-smelling candles and reed diffusers, bake seasonal treats and light up the fireplace for a warm and welcoming ambience.
Use warm ambient lighting
Embrace autumn's mood with soft and low lighting. Ambient lighting involves using colour, temperature and brightness which can create a warm and comfortable amount of light throughout your home to complement its features. If your home has a dimmer switch, opt for lower settings to capture the cosiness of autumn's dark evenings.
Bring your home alive with flowers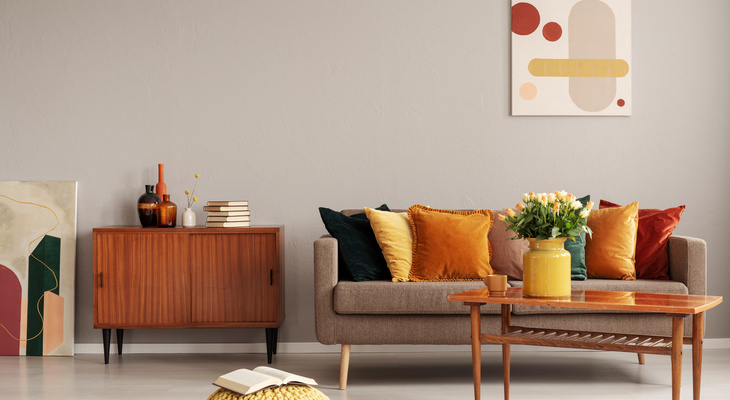 One of the best ways to display autumn's brilliant hues is through decorative flowers. Create a woodland cottage theme with hanging baskets outside, window boxes and clear vases to draw the eyes to the petals.
Create an autumnal outdoor space
As Summer fades out of view, you may find yourself spending less time in the garden, but after all the work you put in over the hot weather, it's a shame to let your garden space go to waste during this beautiful season! You can create an autumn outdoor relaxing area with outdoor rugs, heaters, and weather-resistant furniture or even by transferring your shed into a cosy cove with blankets, pillows and fairy lights.